Ikedoji et al
At terminus ad quo, we will not fail in our duty to remind the Executive Governor of Anambra State Chief Dr. Willie Mmaduaburochukwu Obiano Akpokue Dike Aguleri that commenting on this matter itself is sub judice (In law, sub judice, Latin for "under a judge", means that a particular case or matter is under trial or being considered by a judge or court), the matter in question is coming up on 22nd July 2021 in Court.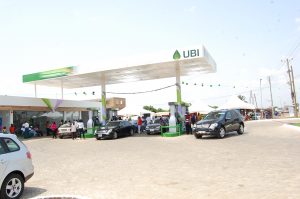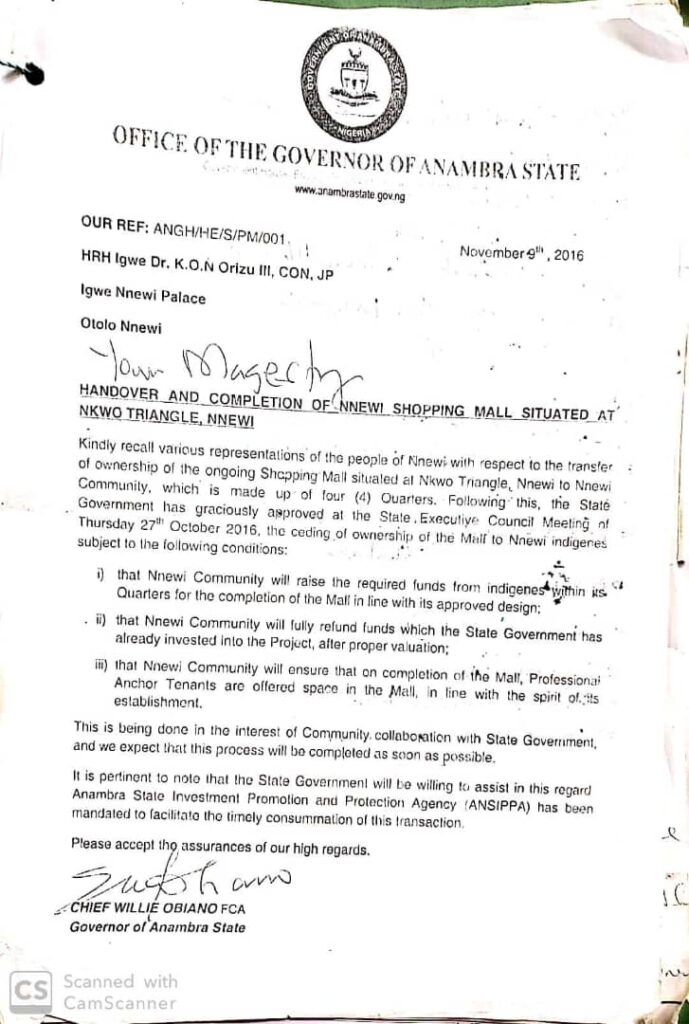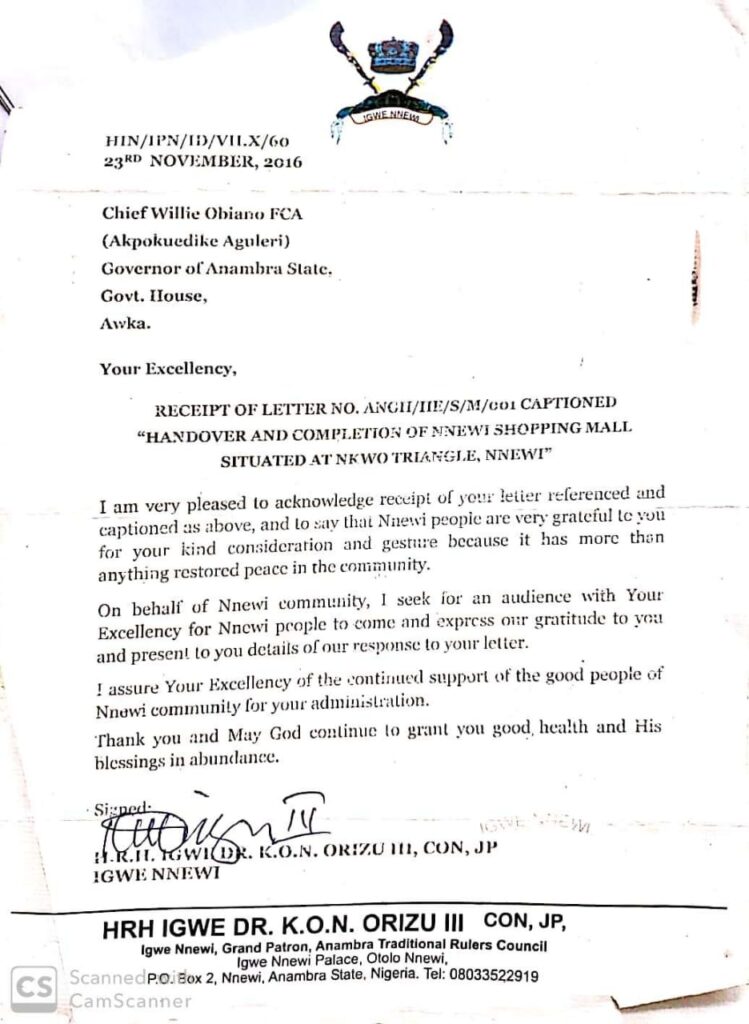 However, having obtained authoritatively that the Governor is about to transfer Nkwo Nnewi Triangle for the sum of 1.5 billion naira, it's my duty and that of Nnewi Patriots to quickly remind the Governor that the project is dead on arrival and advice our brother not to commit a single penny to such futile venture for the following reasons.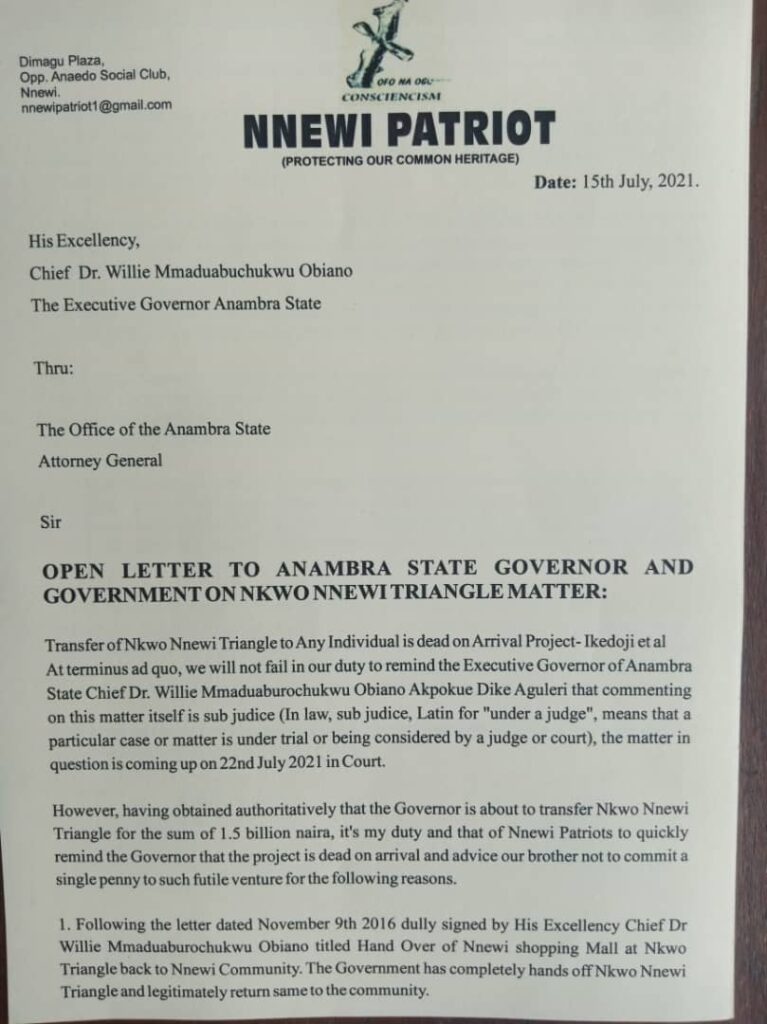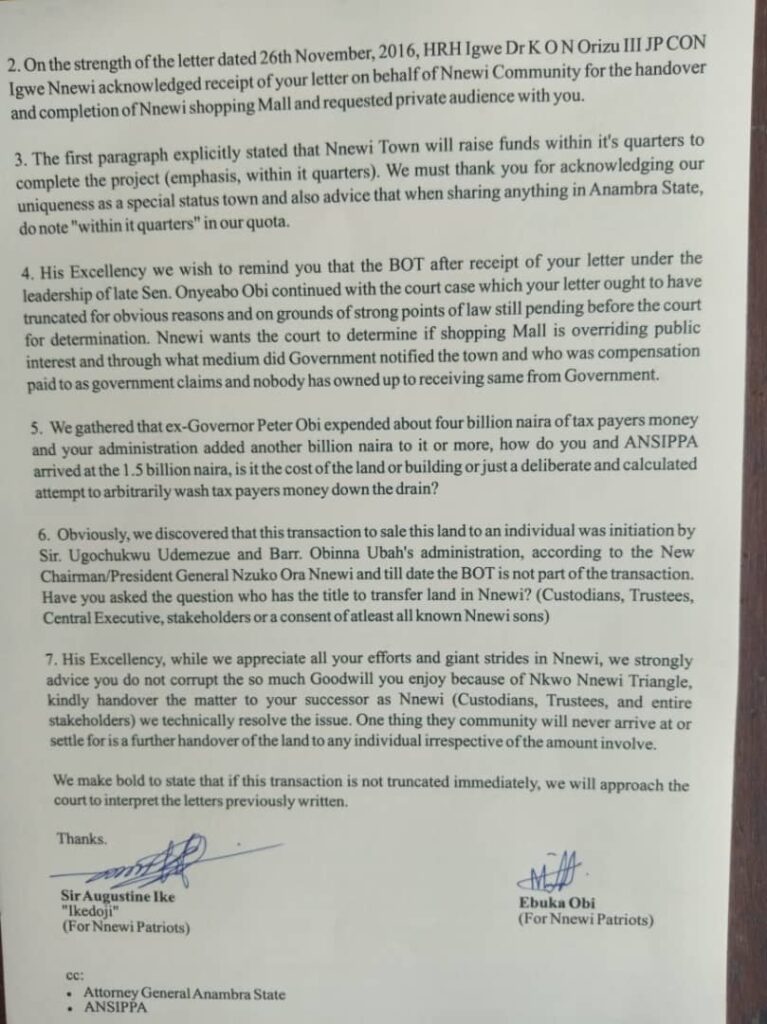 Following the letter dated November 9th 2016 dully signed by His Excellency Chief Dr Willie Mmaduaburochukwu Obiano titled Hand Over of Nnewi shopping Mall at Nkwo Triangle back to Nnewi Community. The Government has completely hands off Nkwo Nnewi Triangle and legitimately return same to the community.
On the strength of the letter dated 26th November, 2016, HRH Igwe Dr K O N Orizu III JP CON Igwe Nnewi acknowledged receipt of your letter on behalf of Nnewi Community for the handover and completion of Nnewi shopping Mall and requested private audience with you.
The first paragraph explicitly stated that Nnewi Town will raise funds within its quarters to complete the project (emphasis, within it quarters). We must thank you for acknowledging our uniqueness as a special status town and also advice that when sharing anything in Anambra State, do note "within it quarters" in our quota.
His Excellency we wish to remind you that the BOT after receipt of your letter under the leadership of late Sen. Onyeabo Obi continued with the court case which your letter ought to have truncated for obvious reasons and on grounds of strong points of law still pending before the court for determination. Nnewi wants the court to determine if a shopping Mall is an overriding public interest and through what medium did Government notified the town and who was compensation paid to as government claims and nobody has owned up to receiving same from Government.
We gathered that ex-Governor Peter Obi expended about four billion naira of tax payers money and your administration added another billion naira to it or more, how do you and ANSIPPA arrived at the 1.5 billion naira? Is it the cost of the land or building or just a deliberate and calculated attempt to arbitrarily wash tax payers money down the drain?
Obviously, we discovered that this transaction to sale this land to an individual was initiated by Sir Ugochukwu Udemezue and Barr. Obinna Ubah's administration, according to the New Chairman/President General Nzuko Ora Nnewi and till date the BOT is not part of the transaction. Have you asked the question who has the title to transfer land in Nnewi? (Custodians, Trustees, Central Executive, stakeholders or a consent of at least all known Nnewi sons)
His Excellency, while we appreciate all your efforts and giant strides in Nnewi, we strongly advice you do not corrupt the so much Goodwill you enjoy because of Nkwo Nnewi Triangle, kindly handover the matter to your successor as Nnewi (Custodians, Trustees, and entire stakeholders), we technically resolved the issue. One thing the community will never arrive at or settle for is a further handover of the land to any individual irrespective of the amount involve.
We make bold to state that if this transaction is not truncated immediately, we will approach the court to interpret the letters previously written.
Thanks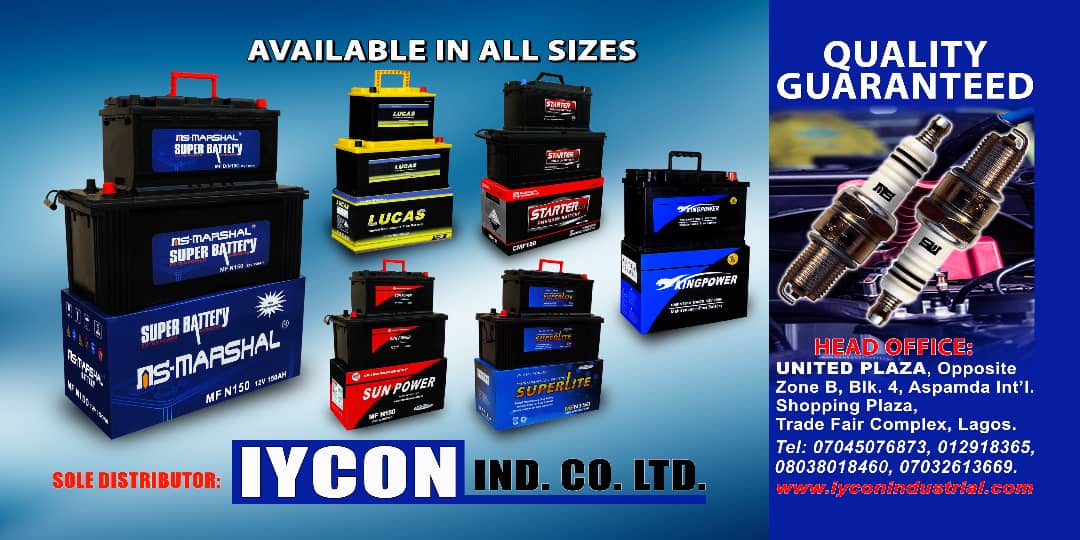 Sir Augustine Ike
"Ikedoji"
(For Nnewi Patriots)
Cc:
Attorney General Anambra State
ANSIPPA